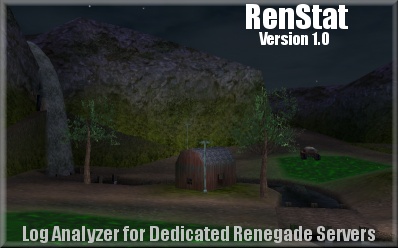 RenStat is the premiere Log Analyzer for Renegade Dedicated Servers. With RenStat, you can host your own ladder using one of six different ranking methods. RenStat is designed specifically to output HTML for the web, so you can have results on your website instantly.
Features
Screenshots

Download

Latest version is 1.0.92 (10/14/2003):
Fixes an obscure case when RenStat would crash on a mangled "Loading" line.
Fixes an obscure case where RenStat would load bad data with certain GameSpy names
Now works on all games, both laddered and unladdered, gamespy, WOL or WOLSpy
Fixes a bug where an empty results file crashed RenStat
RenStat v 1.0, Build 92, Full Install, Updated 10/14/2003 (HTTP/ BeaconPedestal.com) [2.70 MB]


Microsoft Data Libraries (Only install if you get ISAM errors when running the server) [3.24 MB]

Technical Support and Bug Reports
For technical support and to report bugs, please visit the RenStat forums.